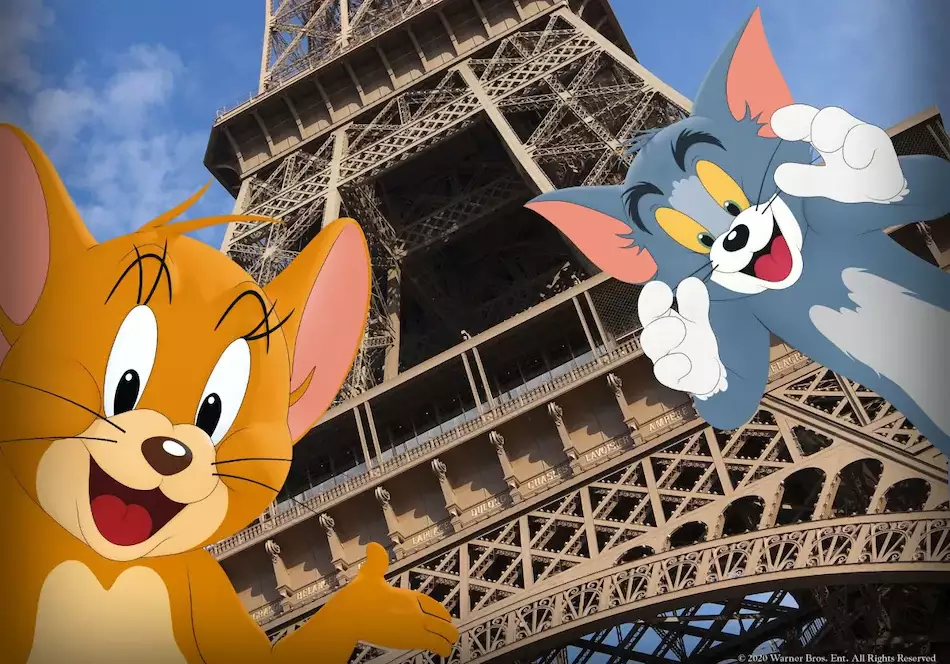 This movie attempts to restore lustre to an iconic couple like the hapless cat Tom with the unstoppable mouse Jerry, involved in a live action film capable of integrating hand-drawn animations. A mechanic that stands out from operations such as Scooby Doo (2002) or Yogi Bear (2010), with computer graphics additions and digitized characters. Only in the initial idea, we return to a potentially winning formula with two much-loved reference figures, and master of numerous slapstick scenes. It's the story of Kayla Forester (Chloë Grace Moretz), a job-seeker. Joining the prestigious Royal Gate Hotel as a manager and organizer, Kayla must immediately take care of the management of a very important event, which will renew the reputation of the luxurious hotel: it is the reception of a sumptuous Indian-themed wedding, with exotic animals and incredibly elaborate decorations. The celebrated, Ben (Colin Jost) and Preeta (Pallavi Sharda), have to deal with the uncomfortable presence of Tom and Jerry, sworn enemies who risk jeopardizing the foundations of the Royal Gate Hotel.
Kayla, keeping cool at every chance, will try to keep at bay the eternal cat-and-mouse clash with compromises and settlements of accounts along the way. The film is available as of Thursday, March 18, 2021 for premium purchase and rental on Amazon Prime Video, Apple TV, Youtube, Google Play, TIMVISION, Chili, Rakuten TV, PlayStation Store, Microsoft Film & TV and for premium rental on Sky Cinema and Infinity.
The initial premises of Tim Story's film (Barbershop, Shaft) are in line with the clear character to be highlighted; there is a location contained in terms of space and shooting to be carried out – a perfectly recreated hotel with a curious conformation to implement spectacular scenes – a handful of human characters who hold the main narrative structure and an animated couple among the most loved of the last forty years. Despite this, the film fails the moment tom and jerry's stage presence is unfortunately lost. A fixed point is not established with the accommodation of the various protagonists on stage, preferring a story almost exclusively focused on the growth of Kayla and the balance to be maintained in her working position.
Michael Peňa and Rob Delaney, respectively as Terence and Mr. Dubros, key members of the Royal Gate Hotel as superintendents and area leaders, attempt to generate embarrassing situations that should put a strain on Kayla's organizational skills. The lack of success in making these parentheses enjoyable to follow – due to an elementary script that does not prepare incisive and context-appropriate jokes – transforms Tom & Jerry into a product with a lack of appeal and little inclined to entertain the widest slice of the audience. We no longer focus on the eternal struggle between cat and mouse, between a distracted and scurvy feline and an agile mouse, quick and endowed with excellent hearing skills; the golden opportunity is lost in a blink of an eye, preferring to outline human characters occupying leading roles, when positions should instead turn upside down.
with a story that does not aim for a defined morality or a non-stop show with Tom and Jerry to prepare traps and crazy devices, proceeds without difficulty with automatic transmission. The director uses a cast that, for most of the shoot, is improvising lines of dialogue that simply serve as stoppers to a depleted premise already in the first 15 minutes; this mechanic is indigestible in the eyes of a fan of the homonymous series developed in 1940. The insertion of three-dimensional figures drawn is a valid technique that can still be exploited but, as the vision progresses, it turns out to be very limited with the actors in the flesh at the level of interaction.
The lack of credibility begins to be felt between the space reserved for drawings and the location populated by human characters, almost as if in the project there are two different entities and therefore two different films: the brazen and physical comedy of the animated duo tries to impose itself with a lot of effort within the film, and the cast of well-known faces is depowered and ridiculed – repeatedly , trying to sell himself as impeccable characters – with a very little impacting script from Kevin Costello. Also to be archived is the music sector, with a soundtrack full of R&B and rap songs that fail to tie at all with the profiles, intentions and internal dynamics of Tom and Jerry. A giant hole in the water, to be sent back to production to understand how you do not have to proceed to develop a film in mixed technique.