Razer Anzu Glasses
Glasses that are nearly perfect with better battery life than the Echo Frames but not nearly as comfortable.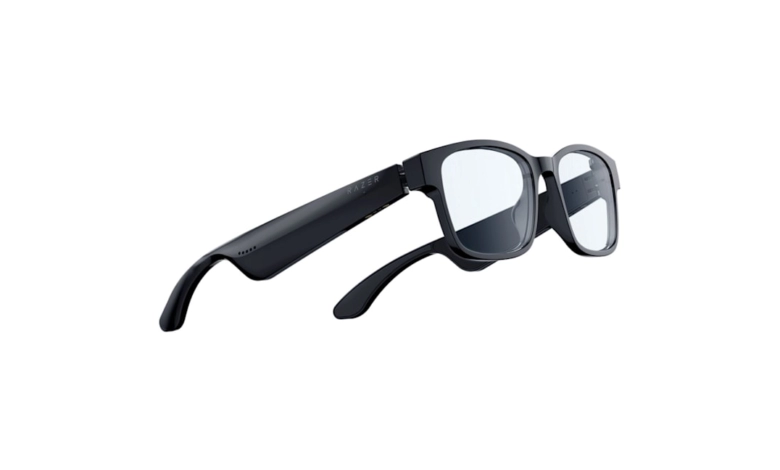 Glasses with built-in speakers are becoming increasingly popular. In the last few years, both Amazon and Bose have released eyewear-headphone hybrids dubbed Frames. The Anzu smart glasses have now been joined by Razer. A pair of glasses with speakers built into the arms like the Bose and Amazon Frames that play audio without obscuring the rest of the world. There are a few unique aspects about the Razer device, though. As a company recognized for its gaming devices, Razer has a "Game Mode" that provides low-latency sound for gamers. For $50 less than the Echo Frames and Bose's newest Frames, it comes with blue-light blocking lenses. Is it enough for Razer's new wearable device to stand out from the rest?
Design
The Echo Frames and the Razer Anzu are nearly indistinguishable at first appearance. My choice of the Anzu was the "rectangle design" model, which looks very much like Amazon's device. Both feature somewhat enlarged rounded rectangular lenses. On closer investigation, though, you'll discover that there are some discrepancies.
One, the larger modules on the Anzu's arms made them less comfortable than the Echo Frames for all-day wear. There are two ports for charging on the Razer device, one on each of the two limbs. There are no physical buttons on the Anzu, unlike Amazon's wearable that has specific volume buttons and an action key. Both arms have touch sensitive controls on the front part.
The small/medium Razer Anzu, like the Echo Frames, is a good fit for my wide face and is water resistant to IPX4. Razer, on the other hand, does offer a larger size than Amazon. To accommodate larger heads and prevent it from breaking, Anzu has springier hinges than Amazon's. The "round design" version of the Anzu is available for individuals who want a more rounded shape. The Echo Frames, on the other hand, are available in a rainbow of hues.
Setup and touch controls
The Razer Anzu can be configured in two ways. There are two ways you can connect them to your device: via Bluetooth or through the company's mobile app. As long as you approach these as Bluetooth headphones, the process is rather basic. When the Anzu's arms are fully extended, it activates pairing mode and activates the device. To use another device, you'll have to unplug the headphones from your laptop or other computer. Folding the arms of the glasses is all that is required to remove them.
Using the app makes things a little more tricky. As soon as I connected the Anzu to my Pixel 4a using Razer's Android app, the music didn't come out of the glasses. Anzu's audio output still required a manual connection through Bluetooth on my phone.
Compared to the main issue I have with Razer's smart glasses, the gesture controls are a minor hassle. Using the app's tutorial, you'll be able to play around with the various touch motions available and see what they do. A single press, double tap, triple tap, long press, and triple tap plus a long press are all recognized by the Anzu. Anzu, on the other hand, only recognizes a press and not a tap.
After tapping the side of the frames, I was told I had made a mistake. None of my attempts to speed up or slow down the tapping were successful. It wasn't until I opted to triple tap and hold that I had my first successful reaction. It turns out that double or triple taps won't register if you're too rapid, and a single press must be deliberate and slow. What's this, a long-press? Keep your finger on the arm and count to three as you do this step.
In addition to the frustratingly slow gesture detection, the Anzu has a tendency to randomly respond to inadvertent touches, which makes this much more unpleasant. During a webcast of the Engadget Podcast, the Anzu decided that my hand brushing against the frames was a valid tap and began loudly streaming music from my phone.
The movements operate perfectly when they are correctly identified. Game Mode can be activated or deactivated by pressing and holding the triple tap with long press combination three times in quick succession. A lengthy press brings up your favourite speech assistant, whether it's Cortana on your laptop or Alexa or Google Assistant on your phone. All of them could be done fast by the Anzu provided I found out the correct timing for each action. The Anzu doesn't have a volume control built in, so you'll have to use your phone or laptop to adjust the level.
"Game mode" with low latency
According to Razer's app, "low latency audio" can be enabled in Game Mode. A "industry-leading 60ms" Bluetooth connection, according to the manufacturer, ensures "stutter-free" streaming. A couple rounds of Cooking Dash, which at my expert level entails high-speed racing around to pick up ingredients, prep and prepare them, then serving platters of food to incredibly eager clients, were played in Game Mode. For example, I use aural cues to notify me when a new customer has arrived, and any lag in sound only makes me feel uneasy.
Cooking Dash's audio was considerably sluggish without Game Mode enabled. I observed a minor improvement, but the game still felt sluggish with low latency enabled. What games and gadgets are compatible with the Razer DeathAdder?
Audio quality and eye protection
For more than just gaming and irritating motions, the Razer Anzu is an enjoyable device. As with the Echo Frames, their open-ear speaker design makes listening to video conversations and YouTube broadcasts a breeze. There's a noticeable lack of bottom and hollowness to the music, but it does get rather loud. When the volume is at least 50 percent, those within six feet of them can hear them. I could still hear my music, but not as well, if I lowered the volume below that level.
If you pair your phone with the Razer app, you'll have access to three EQ options. However, none of them boosts the bass. "Enhanced Clarity" and "Treble Boost" are available in addition to the default profile. High and mid-tones were made louder in both of them, making them sound more like one other. Podcasts and phone calls benefited more from them than music. However, I don't anticipate world-class sound quality from open-style speakers like this.
If you aren't a regular eyeglass wearer, the Anzu's 35 percent blue-light blocking lenses are a nice perk for you. In theory, it gave me the impression that I was shielding my eyes. It was only after a few hours of using the Anzu that my temples started to feel like they were being clamped down by its large arms. Not as comfy as the Echo Frames, which I was able to wear all day without any issues at all.
Charging and battery life
Razer, on the other hand, claims to have a longer battery life than Amazon. The Anzu is expected to live longer than the Echo Frames, which are only expected to endure for two hours of mixed use. In fact, Razer claims that it will "never run out over long gaming sessions." For the most part, the Anzu remained in the area for a few hours. While watching the news, the battery life went to 10% after an hour and cut off automatically.
Note that for some reason the Anzu's charging configuration demands that both arms be connected to its stethoscope-like cord at simultaneously, which is a little unusual. I'm not sure if there are any advantages to this because it's clunky and the device didn't appear to recharge significantly faster.
Wrap-up
With its built-in blue-light filtering and $50 price difference, the Razer Anzu is currently the most popular headset-glasses combination on the market. The Anzu could potentially be the best of the smart audio glasses I've tried if it had better gesture recognition and notable improvements in its low latency Game mode. Because of its outstanding battery life and interesting features, it has the potential to outdo both Amazon and Bose. If you don't mind wearing glasses that aren't quite as comfortable as the competition, the Razer Anzu is a good option.
Razer Anzu Review
Performance - 9.7
Design - 8.4
Cost - 9.4
9.2
9.2/10 Total Points
A hands-free device that plays audio straight to the wearer. These glasses come with a long-lasting battery and blue-light filtering lenses. The only downside is the uncomfortable chunky arms.