Samsung Galaxy Watch 4 Classic
These are still the best Android smartwatches money can buy.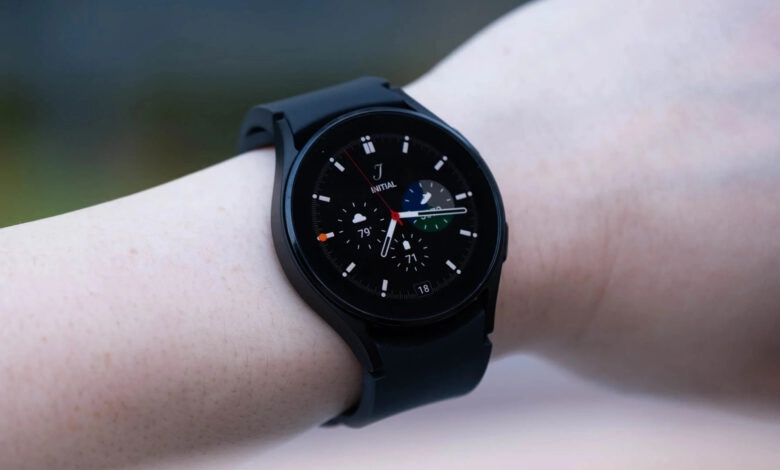 People were hopeful when Google and Samsung revealed that they were teaming together on the newest iteration of Wear OS, which was expected to be a challenger to the Apple Watch. With Google's app store and Samsung's user-friendly UI, the platform seemed promise. Powered by Samsung's "Wear OS," the Galaxy Watch 4 and Watch 4 Classic are the first wearables to run the new software.
But it's not the only new feature that's drawing attention. In addition, a body composition analyzer and enhanced sleep tracking are now available as part of Samsung's new biometric sensors. Adding new 5nm processors and better displays to the Watch 4 series makes it look like a substantial upgrade. This could be a turning point for the Apple Watch. Maybe, but you never know.
We should point out that apart from the Classic's physical spinning bezel and stainless steel case, the two Watch 4 variants are nearly identical. Most of what I'm going to cover in this review is applicable to both models, unless I specifically state otherwise.
Wear OS and One UI
In both watches, the most exciting update is Wear OS, which is based on Android. Actually, I might have thought this was just a simple Tizen update had I not known that the Watch 4 was running a completely new operating system. In order to go through all of your widgets, you'll still swipe sideways on the Classic, and you'll still have access to your standard Watch 4's touchscreen with the touch-sensitive ring around it. All Apps used to be one of the right-hand pages on the home screen, but they've now been moved to the bottom. Above the main page, you'll find a quick options panel that you can customize.
You can now download apps from the Play Store right from your wrist, which is a clear sign that something more is going on here Using the Play Store's Wear section, I was able to quickly add Telegram and Spotify to my phone's app list. Samsung promised that their One UI software will allow for the smooth installation of programs that are already installed on your phone onto your watch. I was hoping they would appear on the watch automatically, but I suppose this gives you more control over what appears on your wrist.
Do Not Disturb settings can also be synced across your phone and watch, so that if you enable it on one, the other is on. A media controller should display on the wearable when you play a song on your phone. If you're using a non-Samsung Android device, you won't be able to use these features. Oh, and the Watch 4 series doesn't support iOS, unlike its predecessors. It's likely that if you're an iPhone user, you never even considered an Android watch.
Gesture controls are the final addition to Samsung's One UI. It's theoretically possible to answer or dismiss calls by moving your wrist or arm. Dismissing a call by spinning my fist didn't work after I enabled the setting and raised my wrist to answer a call. In theory, this would make it easier to use the watch with one hand or while my arms are full, however they don't work very well right now and can only be used to answer to calls or messages.
A new sensor with new functionalities
The Watch 4 line received a major hardware overhaul in addition to the brand new (but familiar) software. Bioelectrical impedance analysis (BIA) can be utilized to provide body mass measurements using a new 3-in-1 biometric sensor developed by Samsung.
First, the Watch will ask for your gender, age, and weight, among other things. This is followed by instructions to put your middle and ring fingers on the two edges. Your arms should be lifted away from your body for the duration of the scan, which takes around 15 seconds. A thorough breakdown of your body's water, fat, and bone mass is provided once the machine has completed its analysis.
Since body composition is a stronger indicator of overall health than BMI, I've been looking forward to this new function. I'd been utilizing Amazon's Halo app's camera-based technique to estimate my body fat percentage, but BIA is a more conventional and widely used method.
After a few days, I concluded that BIA sensors might not be the ideal fit in a watch. It can be difficult to perform the scan since it demands you to remain completely still and avoid touching any other portions of your body. A 15-second stretch of discomfort every now and again would be great, but even the tiniest alterations in posture can have a significant impact on your performance.
In a matter of seconds, I took two scans, one of which had my arms raised further apart from my body. There were two fat scan results: the first one was 26%, and the second one was 30%. It's not as if I'm expecting total precision, and I realize that consistency may be affected by time of day and how you're standing, but so far the findings have been unpredictable.
I'll need to test the BIA system for a few more weeks or months to determine if it generates useful overall trend data while measuring at the same time of day. As you know, changes in your body composition can take a while to show up in your measurements.
Continuous blood oxygen monitoring is another feature that I'm still trying to get my head around. One of the new sleep-tracking features that the improved sensors enable is the ability to monitor sleep length and restfulness, which feeds into Samsung's Sleep Score algorithm. The Watch 4 is able to continuously monitor your blood oxygen saturation (SpO2) throughout the night, unlike prior Galaxy Watches. Watch 4 told me that when I woke up at around 93% to 97% of my SpO2, which is a little lower than I'd want but could explain why I've been so exhausted.
Samsung's sleep score is based on a range of indicators, including the amount of oxygen in a person's blood. Snoring is a new feature for the Watch 4 this year, as well. Using the snore detection feature requires placing your phone "on a firm surface near your head" within two feet of your body with the bottom of the phone pointed at you in addition to wearing a watch. In addition to snoring detection, you may also capture recordings of your sleep noises to listen to them the next day. You can also choose to erase the recordings after a day, 31 days, or 100 days, depending on your preference. There are possible medicinal benefits here for individuals who snore, even if I don't.
My only complaint is that I couldn't find the setting to enable snore detection in the Health app until after I had already recorded a night of sleep. To accomplish this, all I had to do was manually enter a new entry.
The rest of the changes brought about by the new sensor are less visible, such as faster heart rate tracking and improved calorie count algorithms that incorporate both continuous and discontinuous pulse measurements into the calculation. Until I've spent more time with the devices, I can't say if there's a major difference in the performance.
Display and design
This isn't the only area where the Watch 4 series has received a minor upgrade: the screen. Sharper 1.4-inch screens have been added to the larger devices, but the smaller variants still have 1.2-inch displays. Compared to their predecessors, they aren't significantly larger.
Despite being only a hair broader than the Apple Watch SE, the Galaxy Watch 4 still seemed a little too big on my wrist for my liking. Samsung's included 20mm strap is a touch rigid out of the package, and it's difficult to wear comfortably. It will become more flexible and less cuff-like over time, and you may always switch it out for something more comfortable.
The Watch 4 Classic weighs more and is bulkier than the Watch 4, which includes a touch-sensitive ring around the rotating bezel. In spite of my fondness for Tizen Wear OS, the device was too heavy to wear while working out or sleeping, making it unsuitable.
Battery life and performance
The Watch 4 series, despite its resemblance to their predecessors, has a major upgrade on the inside. New 5nm processors with much more storage power these devices. With more storage and a faster processor, you should be able to store more songs on your device. In general, the Watch 4s performed well and was quick to respond. Playing with the Play Store or accidently activating Bixby was the only time I had to hang around and wait. When it comes to Samsung's assistant, long-pressing the top button brings up the power menu by default, but you can change that.
I've always been a fan of Galaxy watches because of how quickly and accurately they track my pace when I'm walking. Since this year's software upgrade, Samsung has made it possible to automatically recognize a workout after 10 minutes rather than 15 minutes. An automatic recording of my 10 minute run-walk from a Long Island Railroad platform in Penn Station to the Path on an adjacent avenue was a pleasant surprise.
You can track 95 different workouts on the watch if you want to get more particular about your workouts at the gym. In the running coach mode, I found the suggestions to be a bit overbearing, and there are subtle differences between Samsung and Apple's systems that would take too much time to explain, such as which brand underestimates treadmill distance traveled and which one is overly eager to tell me it believes I've stopped walking. There are a few minor issues, though, with the Galaxy Watch 4.
Even with all of Samsung's new features, the battery life appears to have taken a hit. In contrast to most smartwatches, the Galaxy Watch 4 series only lasts a day or two. This happened to me when I unplugged my Watch 4 from the charger at 3pm one day. Then, two hours later, I enabled Always On Display and the gadget died at 5pm the next day.
Wrap up
A lack of long-lasting battery life is my major gripe with the Galaxy Watch 4, a smartwatch that's otherwise capable and helpful. Snore detection and body composition monitoring, two more recent additions, may not seem relevant at first glance, but they could yield valuable information over time. There isn't much of a leap from Tizen to the new Wear OS powered by Samsung, so we're still getting a strong, intuitive UI with full health-tracking features.
Add more third-party apps, and the Watch 4 series might provide even more features. Please make them smaller, lighter and more powerful so that they can last longer. However, the Galaxy Watch 4 and Watch 4 Classic are still the greatest smartwatches for Android users, even if the bar is quite low.
Samsung Galaxy Watch 4 Review
Performance - 8
Display - 9.8
Cost - 9
8.9
8.9/10 Total Points
Comes with a comprehensive health tracker, a nice rotating bezel and a bright display. The short battery life may leave you wanting more.