Sony Z8H 8K LED
It's so good that the 8K display is merely an added bonus.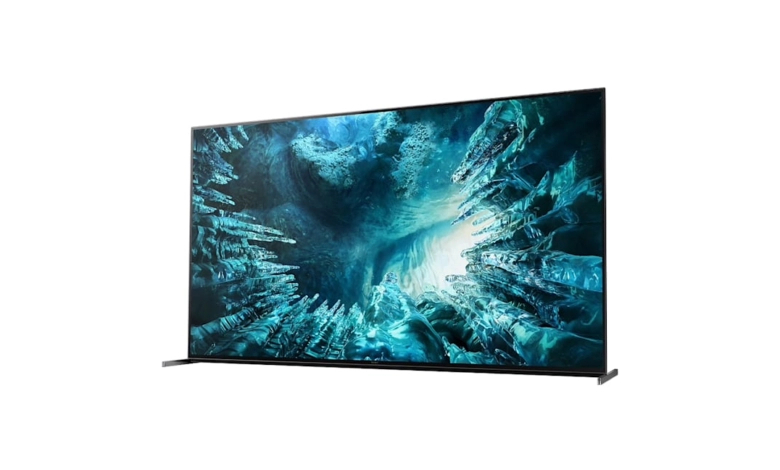 Sony's first 8K TV, the Z9G (known as the ZG9 in the UK), was certainly groundbreaking and spectacular, but it wasn't exactly mainstream. You could get one for $13,000/£14,000 or $70,000/£85,000 in either the 85-inch or 98-inch size.
New 8K LED-LCD displays from Sony, such as the Z8H/ZH8, may change that. Compared to Sony's previous 8K range, the Z8H/ZH8 is significantly less expensive at $5,999/£5,999, but it would have looked better value if it had more 8K input options.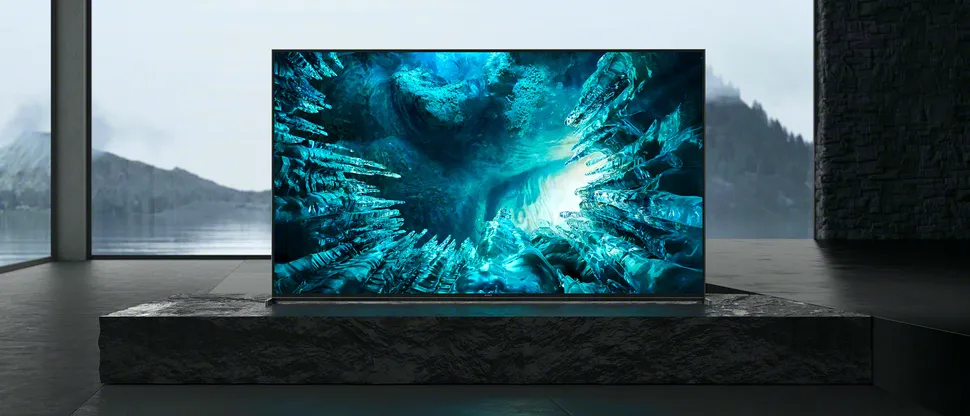 The Z8H's HDMI connections include an 8K/60Hz and 4K/120Hz HDMI input, which could be useful for the next generation of gaming systems, as well as a USB 3.0 port. That being said, it's unfortunate that only one of the HDMIs supports this level of specification. A new generation of PCs and a new generation of next-generation consoles will be released in the future.
The ZH8 / ZH8 does not support 8K playback via USB or YouTube streaming, which is a shame. Even though this last point has since changed thanks to an over-the-air update in October, we were disappointed to see that the 8K HDMI inputs did not support variable refresh rates. The Z8H feels like our best hope yet for 8K, in spite of any minor issues that may come up.
Firstly, its enormous brightness of 2500 nits unlocks HDR's full potential. Sony's approach to backlighting ensures that the brightness is maintained with unmatched consistency.
Color range is enough to keep up with the brightness, and Sony's backlight management means that the extreme brightness doesn't come at the expense of excellent black levels or shadow detailing.
We've never heard a built-in TV audio system produce sound this clear, powerful, and well-balanced, and that's saying something.
Do I think it's worth the money? Generally speaking, yes.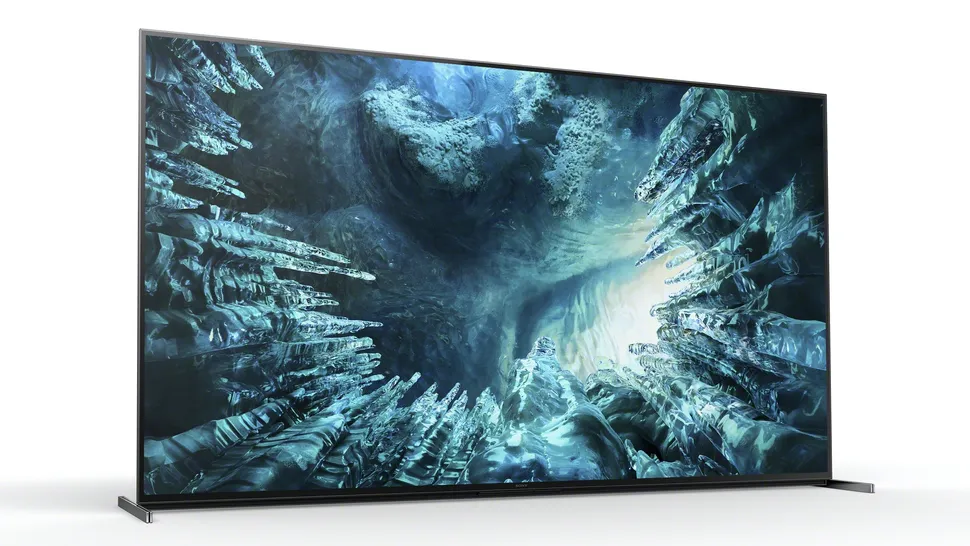 Price and availability
As far from mainstream as possible, Sony's Z9G/Z9 8K TVs were the first of their kind. In addition to being excessively large (starting at 85 inches), they were also extremely expensive.
The Z8H/Z8 are a lot more mainstream than the ZG9, with a 75-inch screen size that is more manageable for most UK homes and a starting price of £5,999.
Only in Australia can you get the Sony XBR-75Z8H 75-inch HDTV for AU$18,999 while in the US it costs just $5,999. Those prices aren't cheap, but they put Sony in the same league as the latest mid-range 8K models from Samsung, such as the Samsung Q950TS, allowing the Korean brand to finally face some genuine competition in this niche but growing TV market.
Consider the Z8H's improvements over the X950H before you decide to sacrifice a few tens of millions of pixels to save more than three thousand dollars. The Z8H has a number of other advantages over its predecessor, including a better picture quality and a better sound system.
Design
The Z8H/ZH8 doesn't appear to be particularly cutting-edge in terms of design. The bezel on Samsung's flagship Q950TS 8K TVs is so thin, it's almost invisible. This isn't the case with the Q950TS. In addition, the bezel has an untidy look to it due to the various finishes that it features.
Even though the silvery metal outer trim around the screen may appear excessive when looking at the TV straight on, it actually adds a nice premium feel when viewed from any other angle.
You can attach the 75ZH8's metal feet in a variety of ways, including on their sides under the screen's bottom corners. People who want to mount the TV on a narrow piece of furniture will appreciate the more central mounting option.
For the Sony A8 OLED, you can only raise the feet so that you can fit a sound bar underneath the screen. Sony, on the other hand, may well argue that the TV's sound is so good that a soundbar isn't necessary. A narrow forward-firing speaker system sits just below the screen, making it one of the more unusual designs.
After you've connected all of your devices, the TV's back panel features a two-tiered, unusually deep, two-tiered rear panel with a variety of removable plastic covers so that it can still appear clean to the world.
For the Z8H/Z8, Sony has included one of their most luxurious remote controls. An easy-on-the-eye and hand metallic finish is complemented by well-organized buttons on this device. Backlit buttons make things even better.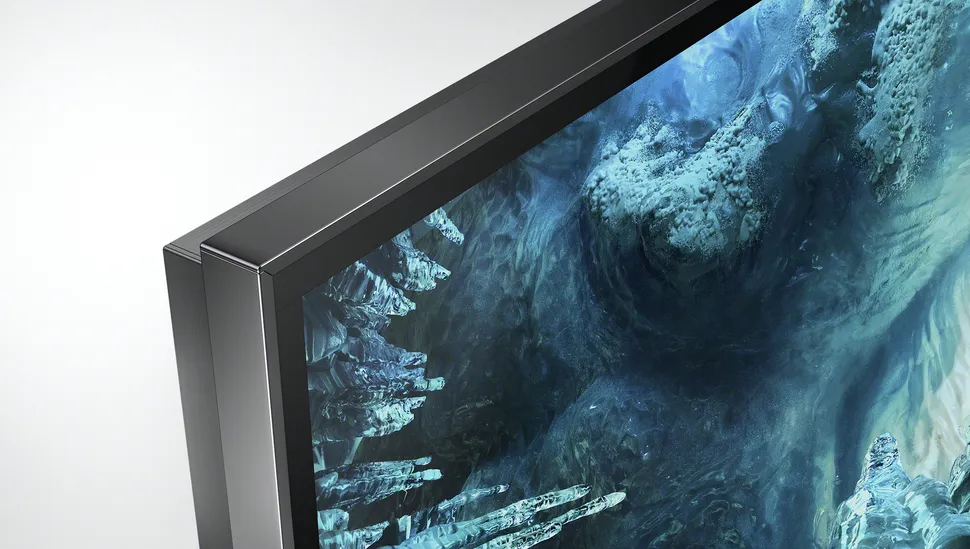 You'd expect a flagship TV in 2020 to have four HDMI and three USB ports in addition to Wi-Fi and Bluetooth wireless multimedia playback, Apple AirPlay 2, HomeKit, and Google Chromecast support. There are also two gold-plated audio terminals, which allow you to use the TV's built-in speakers as the center speaker in a larger sound system.
After a firmware upgrade in October, the TV's one 8K HDMI input (which is clearly marked as such) now supports 8K at 60Hz and 4K at 120Hz, as well as VRR (variable refresh rates) and ALLM (adaptive local dimming) (auto low latency mode). However, the lack of two HDMIs capable of handling such data rates is a disappointment. Besides, we're about to get two new games consoles that may be able to offer these kinds of features. As far as I'm concerned, Sony wants you to only buy the PS5.
Additionally, the TV's 8K input requires you to choose between Dolby Vision and 8K at 60Hz. This means that 8K Dolby Vision is no longer an option.
Nothing special about the Z8H. Freesync, Nvidia G-Sync, or even basic HDMI 2.1 types are all supported by HDMI. True support for Auto Low Latency Mode, which automatically turns on the TV's Game preset when game sources are detected, does not exist. However, a PlayStation's Auto Picture Mode achieves the same result.
Smart TV (Android TV 9.0)
Sony's decision to use Android TV for its TV smart features is a no-brainer. With the Sony TVs' access to so much content, Sony doesn't have to deal with all of the various app and streaming service providers on its own.
However, there are some drawbacks to using Android. It still doesn't support all of the key UK catchup apps, such as the BBC iPlayer and ITV Hub, which Sony has solved by adding separate support for YouView.
The'shelf' approach to presenting content on Android can look cluttered because it takes up the entire screen rather than allowing you to browse while watching TV. The sheer number of apps Android TV supports can be a bit overwhelming for some people. For many people, video streaming services are all they need on a smart TV platform, so it's unnecessary.
The Android operating system is more stable and responsive than it was before, despite using an older processor than the Sony X900H. Android TV, on the other hand, has Netflix, Amazon Prime Video, YouTube, Google Play Movies, Rakuten, BT Sport, and Disney+, among other services.
As a bonus, the addition of Android TV support allows for access to a slew of new Android features, including built-in voice control for Google Assistant, help with the initial setup on an Android phone, and Chromecast Built-in.
Picture quality
It is clear that the Z8H/picture Zh8's quality is exceptional, and that it is Sony's premium LCD performer for 2020 in more ways than just resolution.
Even though it has 8K pixel count, the first thing you notice about it is its dazzling brightness. It's hard to believe that HDR images can look so lifelike, but they do: The TV's brightness in Vivid mode is 2,500 nits, which drops to around 2220 nits in Cinema mode, and around 2,150 nits in the most "accurate" Custom mode, when measured on a 10% white HDR window.
Bright, uniform daylight scenes aren't the only ones that benefit greatly from the high level of brightness. The Z8H/ZH8 is also able to achieve remarkable levels of sparkle and intensity with small bright highlights thanks to this feature. When the sun shines brightly on a river, the ripples shimmer and shine with an almost otherworldly beauty, while at night, streetlights and reflective surfaces like eyes and metal shine with a local contrast intensity that has no business appearing on an LCD TV.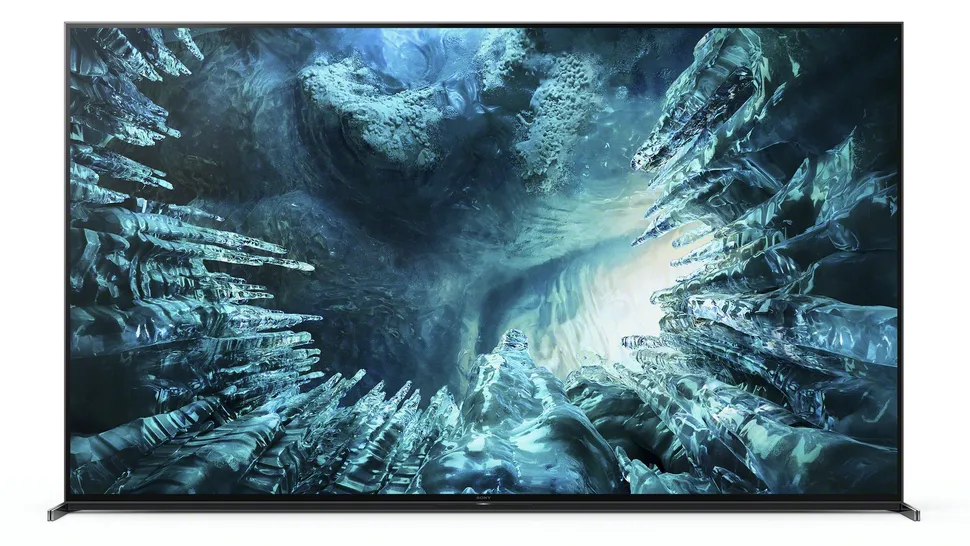 HDR objects that appear against dark backgrounds aren't dimmed as much as those on Sony's flagship 4K range. The 75-inch Z8H, in contrast to the X950H, has 320 independently controllable local dimming zones. Consequently, backlight blooming around bright objects is much less noticeable and widespread. Despite the fact that LCD TV black levels are consistently impressive.
The 75ZH8 retains more shadow detail in extremely dark areas of the picture by not dimming the backlight as much as Samsung TVs do in such situations.
I have a large collection of 4K Blu-ray movies, and the Sony ZH8 has no issues even in the darkest scenes. In other words, there is no greying out of black levels, no crushing of shadow detail, no instability in either bright highlights or dark areas, no discoloration or color shifting, and no noise compression in dark color shades.
Brightness, contrast, and light consistency all work together to give the Z8H/ZH8 excellent color fidelity. Its brightness and contrast open up a vast volume of colors that are beautifully depicted, combining richness and fullness with immaculate subtlety and admirable consistency.
For up scaling 4K and HD content, the X1 Ultimate processor is at its best. The ZH8's native pixel count is remapped from these lower-resolution sources without looking artificial or processed. Contrary to popular belief, even on the highest-quality 4K screens, they appear more precise and pure. To some extent, this is due to the ZH8's other non-detailed qualities, and to some extent, because every added pixel is calculated so perfectly that you can never see the joins.
Also as usual, Sony's excellent motion processing ensures that sharpness and detail don't disappear when there is motion in the frame. On its most effective settings, soap opera effect or unwanted processing side effects are not possible.
Standard dynamic range images can be converted to High Dynamic Range (HDR) using Sony's processing prowess. HDR Remastering on the ZH8 is enabled by default with most of the TV's picture presets, so you can't turn it off manually. Normally, a situation like this would be unwelcome. In light of the difficulty HDR conversions have with many TVs. There are some minor issues with Sony's HDR Remastering that I couldn't find – aside from the purist argument, of course, that you shouldn't mess with content's original look.
75ZH8 is a fantastic gaming screen, despite its lack of variable refresh rate support. In Game mode, it has an input lag of 21.1ms, which is slightly higher than Samsung's latest 8K TVs' 10ms or so. However, the 75ZH8 doesn't sacrifice as much picture quality – in particular backlight control – as the Samsung sets do, which is important. The 75ZH8's Game mode, on the other hand, provides a more enjoyable all-around experience unless you're so competitive that 10ms is literally life or death to you.
8K performance
Although its 8K resolution is the ZH8's biggest selling point, it may seem odd that we haven't talked much about the ZH8's 8K content. However, this is for two reasons: First and foremost, because native 8K sources are still so scarce, anyone purchasing a 75ZH8 will primarily use it to watch 4K and HD sources, rather than native 8K.
Second, playing 8K sources isn't something the 75ZH8 enjoys doing. Neither USB nor streaming sources allow it to play 8K content (including YouTube). Because of this, the single HDMI port is your only access point for Ultra HD content at 8K resolutions. If you don't already have a high-end PC or an expensive test signal generator, you'll either have to hope the new consoles dabble in 8K, or you'll have to buy an 8K-capable Nvidia RTX 30 series GPU.
However, even when the 75ZH8 finally displayed an 8K signal, its quality was noticeably lower than we expected, raising questions about whether data management limitations that prevent it from supporting 8K USB or streaming are also affecting its native 8K HDMI delivery.
Aside from its 8K issues, the Sony 75ZH8's pictures have always been stunning to look at. In dark scenes, OLED and Samsung's rival high-end 8K TVs appear darker than the norm. It's also worth noting that backlight blooming is less noticeable than on Sony's XH9505 4K series. As a result of the black bars that appear in ultra wide-aspect ratio movies.
Since each TV's brightness can only go so far, Sony employs a "literal" approach to HDR, tracking its luminance values precisely as far as possible. It's possible to lose some subtle HDR detail because of this "no tone mapping" approach to HDR brightness, but this isn't a deal breaker for many people.
However, because of the 75ZH8's exceptional native brightness, the brightest image elements can occasionally 'flare out' only with content that has been mastered to 4000 nit peaks (most content is rendered much less brightly than that). And you'll probably be so engrossed in the picture's bright and vibrant colors that you won't even notice it.
Compared to Samsung's AI-driven upscaling engine, the 75ZH8's upscaling of HD and 4K sources is less sharp and aggressively 8K-looking. The 75ZH8's upscaling, on the other hand, has a beautifully and consistently refined feel in keeping with the focus on naturalism that's at the heart of its picture philosophy. This may turn the heads of people who want to get as much visible benefit as possible from all those pixels they've invested in.
Because of HDR content's ability to maintain its brightness for long periods of time, a slightly shallower black level and some occasional blooming seem like small price to pay for such an incredible HDR experience.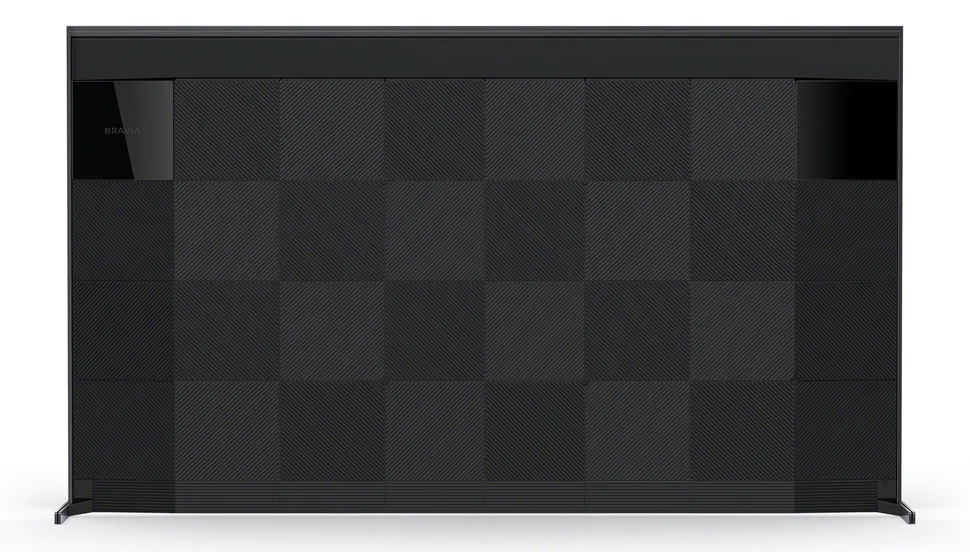 Audio performance
With tweeters hidden behind the top left and right corners of the screen, the Z8H/so-called ZH8's Acoustic Multi-Audio setup gives sound a forward 'push,' making it appear to come from all around the screen rather than just from the bottom.
Additionally, two front-firing drivers are located below the screen, and the rear panel houses two bass woofers. Atmos support and Dolby processing modes are built in, as well as the ability to enhance non-Atmos content. So confident in the 75ZH8's audio capabilities is Sony, in fact, that they even provide a center speaker option for a separates system.
Even the most dynamic and raucous soundtracks can be handled brilliantly by the speaker system. If you've got a big-screen TV, the Frame Tweeters will do a great job of avoiding the common problem of sound only coming from behind or beneath the screen. As a result of the front-firing drivers' ability to disperse sound so widely under the screen, the sound effects appear to come from exactly where they should, further enhancing the sense of immersion provided by the incredibly realistic and refined images.
As ideal as it would be for the TV to have more powerful bass, it's not lacking in power when it does come out to play.
Sony Z8H 8K LED Review
Performance - 8.2
Display - 9.1
Cost - 9.2
8.8
8.8/10 Total Points
For a TV that is essentially a 4K TV "plus," the Sony Z8H / ZH8 is the best LCD TV picture of 2020, but its 8K support is more limited than it ought to be, making it appear overpriced.