NZXT Streaming Plus
High-quality components and a spotless Windows setup.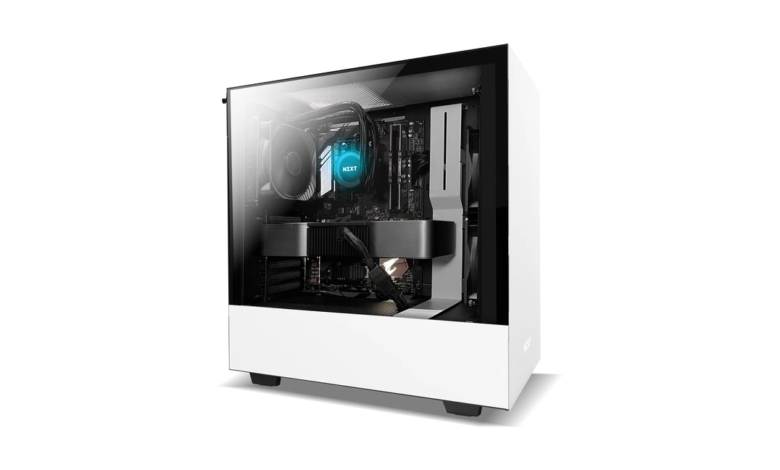 It's still nearly impossible to find a modern GPU for less than its MSRP, despite the fact that graphics cards in general are getting cheaper. Regardless of whether you need a new PC or not, pre-built systems like NZXT's Streaming Plus ($1,999 as tested) remain a popular choice among PC gamers. Therefore, many people are looking for the best gaming PCs. It's one of the few ways to get a powerful GPU without shelling out a fortune for a graphics card. Don't expect any hardware or features tailored to streaming to be included. There is nothing special about this computer other than its name. To stream, you'll need to use the graphics card and Nvidia Broadcast, which are both available on this system.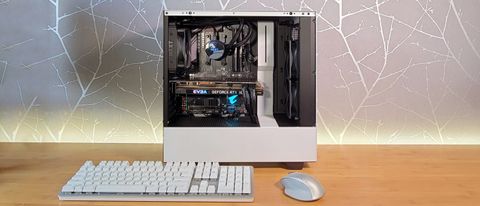 The Ryzen 5 5600X CPU and RTX 3070 graphics card in our NZXT Streaming Plus test configuration cost $1,999. That may not be the most powerful gaming rig on the market, but as our tests will show, it's more than capable of keeping up with even the most demanding games of today. It's also a decent value in today's world of silicon scarcity, given that all the in-stock RTX 3070 cards on Newegg at the time we wrote this were selling for over $1,000. NZXT's H510 case and Kraken M22 AIO cooler are also included, as well as a 1TB NVMe SSD and 16GB of RAM.
If you're looking for a more powerful gaming rig, you'll want to look beyond Dell/Alienware, Acer, and HP, which typically come with a single stick of RAM. XMP memory profiles are not enabled by default on NZXT hardware. When it comes to gaming, the fastest speeds can make all the difference, so make sure you enable them in the BIOS first.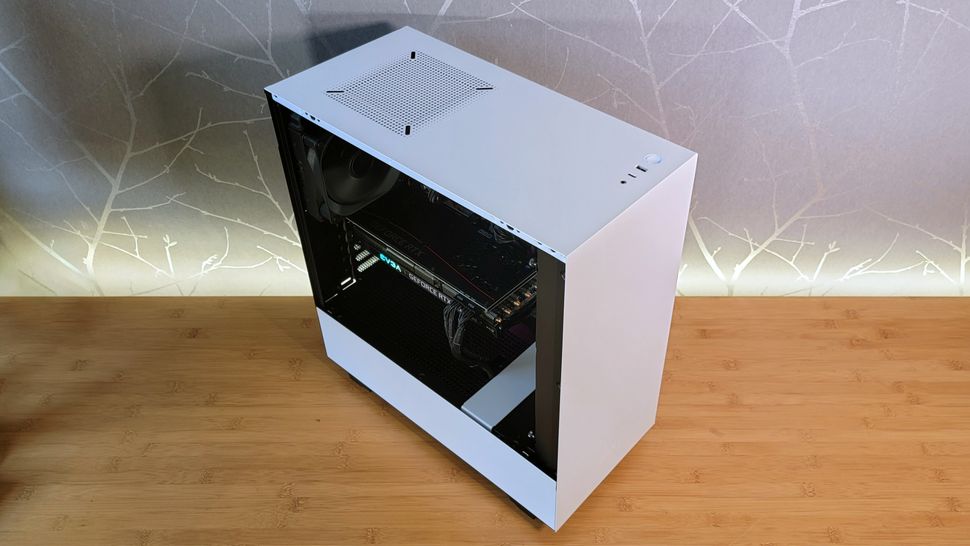 NZXT Streaming Plus's design
All NZXT Streaming and Streaming Plus PCs ship in the company's H510 case, which is available in either black or white and does a nice job of showcasing your main components behind the glass side panel. A power supply shroud and a metal bar that runs vertically down the interior, in front of the motherboard, also conceal much of the cabling.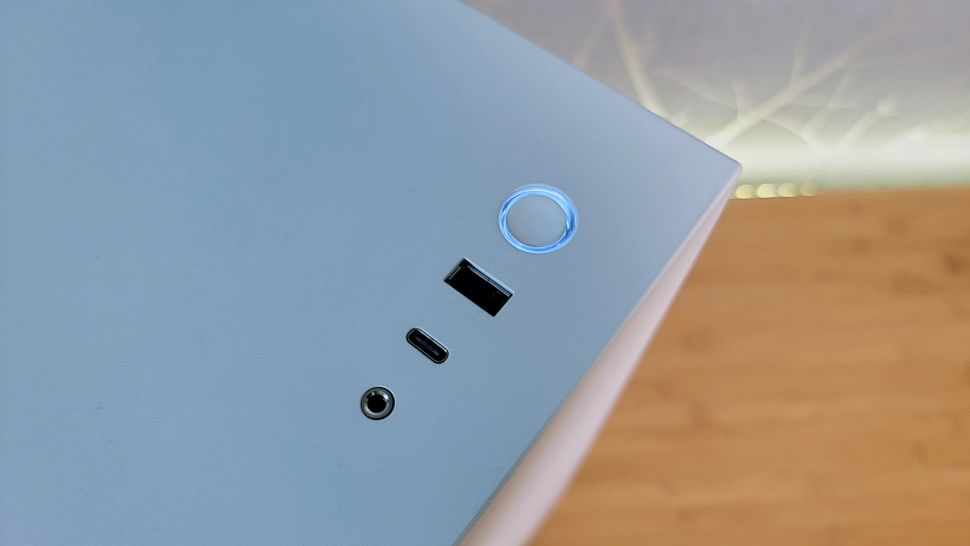 The system's appearance is clean, if not particularly eye-catching, compared to modern gaming rigs. There are no lights on the three fans that come with the kit. Kraken M22 AIO's infinity mirror light ring, Aorus motherboard's chipset cooler, and our review unit's EVGA RTX 3070 graphics card all contribute to the light show. While there is a slight glow when the lights are dimmed, the RGBs are not overpowering. Style modesty like this is a breath of fresh air.
However, the right side of our test unit has plenty of intake holes for the two front fans, the front of which is solid white steel. Additionally, there is an airflow perforation on the top of the case (where you could also add another fan). An attractive power button, one audio jack, and two USB ports—one Type C and one Type A—can be found on the device's front panel. However, NZXT claims that newer models with B550 motherboards will have a working Type-C port. Our review unit did not. Even so, the cooling and ports here aren't exactly luxurious, but they get the job done without a lot of major complaints.
Your mileage may vary when it comes to rear ports and upgradeability, at least with our review unit. An NZXT B450 Aorus Pro WiFi motherboard was included in our system. In the end, however, new systems will ship with the newer B550 boards due to a last-minute change (which a NZXT representative told us was due to recently implemented CEC guidelines). Availability of stock will have an impact on the specific board you receive. That puts to rest any debate over the USB ports and expandability that might have taken place up to this point. However, customers will benefit from the B550 chipset's inclusion of the faster PCIe 4.0 lanes found on the Ryzen 5 5600X CPU in general. In our testing, that didn't have a significant impact on performance, but it will allow you to upgrade to, say, an ultra-fast PCIe 4.0 SSD or a high-bandwidth graphics card without having to buy an entirely new motherboard.
NZXT Streaming Plus Specs
| | |
| --- | --- |
| Processor | AMD Ryzen 5 5600X |
| Motherboard | B450 Aorus Pro WiFi (as tested), B550 boards will ship with new systems |
| Memory | 16GB T-Force DDR4-3200 (as tested), new systems ship with DDR4-3000 |
| Graphics | EVGA RTX 3070 XC3 (8GB) |
| Storage | 1TB Western Digital WD Blue SN550 NVMe SSD |
| Case | NZXT H510 |
| Networking | Intel Dual Band Wireless-AC 9260 (on motherboard), Bluetooth 4.2 |
| Front Ports | 2x USB 3.0 (Type C, Type A), 3.5mm headphone/microphone combo jack |
| Rear Ports (Motherboard) | Dependant on motherboard |
| Video Output (GPU) | 3x DisplayPort 1.4a, HDMI 2.1 |
| Power Supply | 80 Plus Bronze 650W |
| Cooling | NZXT Kraken M22 120mm AIO |
| Operating System | Windows 10 Home |
| Dimensions | 18.11 x 16.85 x 8.27 inches / 460 x 428x 210 mm |
| Price as Configured | $1,999.99 |
The NZXT Streaming Plus gaming and graphics
EVGA RTX 3070 graphics, a 1TB WD SN550 NVMe SSD, and 16GB of RAM were included in the $1,999 configuration of the NZXT Streaming Plus PC we tested.
That's a powerful gaming setup, as we'll soon discover. In addition to the motherboard's switch to the B550 chipset, there are other differences between the NZXT Streaming Plus we received and the one you'll get if you buy it.
Although NZXT claims that these systems come with 16GB of DDR4 3000 RAM, the company does not enable the XMP profile so that the RAM runs at that speed right out of the box. You can do this yourself quite easily: To enable Profile1 under the Extreme Memory Profile (the first menu option), simply enter the BIOS and press F10 to save and exit.
As a result, we ran our NXXT Streaming Plus benchmarks at 2400 MHz because that is the default memory speed for our T-Force memory, which is how the vast majority of buyers will use their system. Some games will run faster if you enable the faster RAM speed. NZXT informed us that its two-year warranty covers running your memory at these advertised settings, but it doesn't automatically enable them.
We compared the NZXT Streaming Plus to other gaming desktops we've tested recently in the following gaming and productivity tests. With an RTX 3070, 16 GB of RAM, and the same boot drive (a WD SN550), the iBuypower Element CL Pro appears to be this system's most direct competitor. The NZXT model, on the other hand, comes with an AIO cooler for the same price as iBuypower's hardline tubing for cooling.
The HP Omen 30L we tested costs about $3,100 with an RTX 3080 and an Intel Core i9-10900K, which makes it significantly more expensive. Lastly, the $2,639 Alienware Aurora Ryzen Edition R10 is powered by an AMD RX 6800XT and a Ryzen 7 5800X and comes with 32GB of RAM.
Anecdotal evidence indicates that the system worked well for us while we used it. The Ascent ran at 55 to 68 frames per second at 4K resolution with all settings maxed out during the first section of the game. Keeping the frame rate at or above 60 fps isn't difficult to achieve by reducing a few settings.
At 1080p, the NXZT Streaming Plus system outperformed the closest competitor, the iBuypower system, by 5 frames per second (thanks in large part to its current-generation AMD CPU), but fell short at 4K by a single frame per second. The two systems equipped with more powerful Nvidia graphics cards performed significantly better, as was to be expected. They also cost a lot more than other options.
The NZXT system outperformed the iBuypower on Grand Theft Auto V (very high) by 7 frames per second in 1080p and by a few frames per second in 4K. For the second year in a row, HP and Alienware were the clear winners thanks to their more expensive, more powerful core components.
At 1080p, the NZXT system was just 4fps behind the iBuypower's system, but at 4K, the NZXT system was just one frame ahead of the iBuypower's system. A 20-fps advantage was found between the Alienware and the Omen when playing at 4K.
On Red Dead Redemption 2, the NXZT system looked its worst (medium settings). It scored 82 fps at 1080p and 32 fps at 4K, which was a good result. The iBuypower system, on the other hand, had the same hardware but a faster clocked RAM, and was 10 fps faster at 1080p and 6 fps faster at 4k. Aside from being capable of faster memory clock speeds, which NZXT's systems are capable of, its memory profile isn't enabled by default, which may have an impact here (and elsewhere). So we ran our tests at 2400 MHz. '
The NZXT and iBuypower systems in Borderlands 3 were also equal on the Badass preset. In terms of 1080p and 4K, the two systems scored 106 and 44 fps respectively. With its RTX 3080, the HP Omen was able to achieve 135fps at 1080p and nearly 60fps at 4K.
The NZXT Streaming Plus was also put through its paces in our Metro Exodus gauntlet, which we ran 15 times on the RTX preset. On average, the game ran at 82.23 frames per second, with a peak of 83 fps and a dip of 81 fps. An average of 4.3 GHz and an average temperature of 63.13 degrees Celsius were recorded by the CPU (145.63 degrees Fahrenheit). An average of 1829 MHz and 66.18 degrees Celsius were recorded by the graphics card (151.12 degrees Fahrenheit).
Performance of the NZXT Streaming Plus
With its 12-thread Ryzen 5 CPU and 16GB of RAM, NZXT's Streaming Plus is also a capable productivity rig capable of running AAA games. Keep in mind, however, that this computer's CPU isn't always up to snuff against more expensive and more powerful alternatives. A 20-thread Intel Core i9-10900K was found in HP's Omen 30L during testing. As for AMD's Ryzen 7 5800X, the Alienware rig has 16 threads. So don't expect the NZXT six-core rig to take the lead here, either. However, that doesn't mean it can't compete.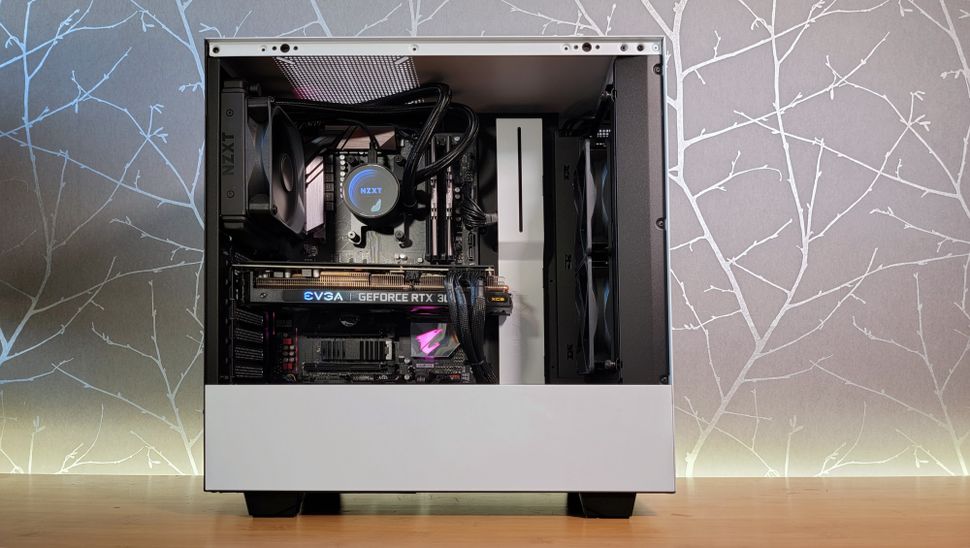 NZXT's rig managed to outperform the Intel-powered HP Omen in Geekbench 5's single-core test, while edging out the Alienware's performance. But when all cores are taken into account, it was outclassed here. With its more complex (and beautiful) hard-line cooling system, iBuypower's system performed better than the other two.
However, even though the NZXT system has two more Intel-powered cores, it came out on top in our Handbake test. However, HP and Alienware rigs once again took the lead in this category.
When we ran a 25GB file transfer test on both the NZXT and iBuypower systems, the former came out on top. In spite of its NVMe model, the WD drive is far from one of the best SSDs, with a speed of just under 400 MBps compared to the 463 MBps of the HP Omen 30L, and the 683 MBps offered by the Alienware Aurora.
NZXT Streaming Plus warranty
NZXT's Streaming Plus rig's clean desktop is one of the more enjoyable aspects of using it for the first time. Just a few shortcuts for Nvidia's Control Panel, CAM monitoring software, and RGBFusion for motherboard lighting were on our desktop. Fortunately, there's also a shortcut for Edge.
The amount of pre-installed software is also very low. We didn't notice anything else that wasn't mentioned above. There was no Candy Crush or other gaming bloat in Windows 11. Only a few of Microsoft's add-on applications, such as Office and 365 for Enterprise, caught my eye. This is the best desktop Windows installation I've seen in a while.
It comes with a two-year warranty on both parts and labor from NZXT.
The NZXT mid-tower ATX desktop is available in three different configurations from the company. $1,999 for the Streaming Plus PC includes a Ryzen 5 CPU, an RTX 3080 and 16GB of RAM plus a 1TB NVMe SSD, making it the most expensive PC we tested.
It has the same Ryzen 5 CPU and RAM, but an older RTX 2060 graphics card and half the storage space of the $1,599 "Streaming PC" model (500GB). Finally, the $2,999 Streaming PC Pro has the same RTX 3090 and 16GB of RAM as our review unit, but an RTX 3080.
There is now a 120mm Kraken M22 liquid cooler included in all three configurations, rather than the B450 we received. We appreciate the inclusion of liquid cooling and dual-channel memory in all configurations; this is an improvement over many big-box prebuilt gaming rigs, especially those priced under $2,000, in our opinion.
The Bottom Line
The Streaming Plus from NZXT is well-built and reliable, and it held its own against the CL Pro from iBuypower, which is also equipped with an RTX 3070. NZXT's design doesn't stand out, and the iBuypower system comes with a better hard-loop cooling system for the same price. Since our review, the iBuypower system has gone up in price by $50, to $2,049, and was already out of stock when we wrote this article. If the Streaming Plus wasn't already out of stock when we were wrapping up this review, that might have worked in the NZXT system's favor. Cryptomining, the ongoing pandemic, and ongoing import tariffs have resulted in hardware-constrained times in which we must live. For at least the next few months, the availability of most modern gaming PCs will be sporadic.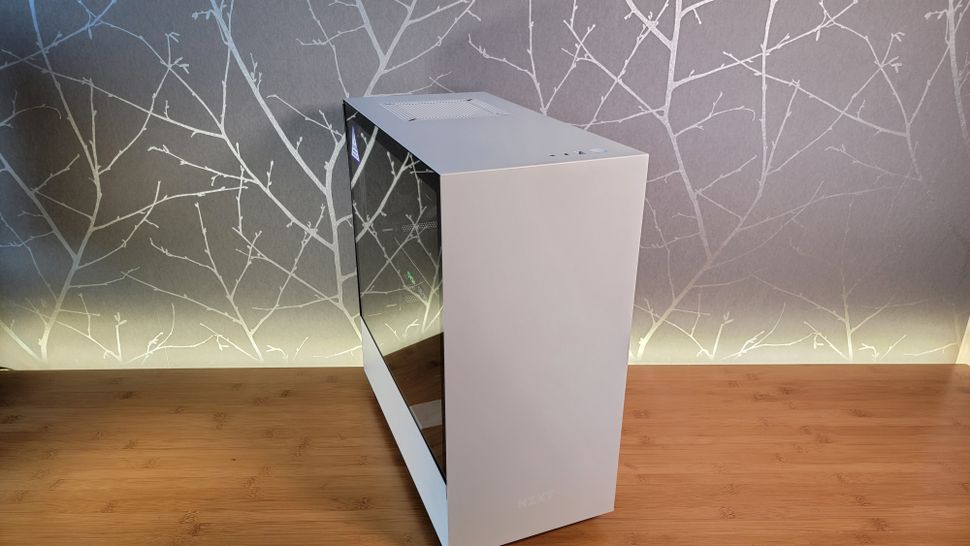 NZXT's Ryzen 5 5600 CPU and Nvidia RTX 3070 graphics card, along with 16GB of RAM and a 1TB hard drive, are more than powerful enough to handle today's most demanding games, but you'll have to lower the resolution to 4K if you want to maximize performance. Enabling XMP in BIOS settings can help some games run at a higher frame rate. To get the most out of your expensive memory, it takes less than a minute and you don't want to stick with the default settings.
NZXT Streaming Plus Review
Performance - 8.2
Design - 9.7
Cost - 8.8
8.9
8.9/10 Total Points
Stunning game performance at a reasonable price with many expansion options.