Maingear Turbo
A small but powerful gaming desktop, at a hefty price.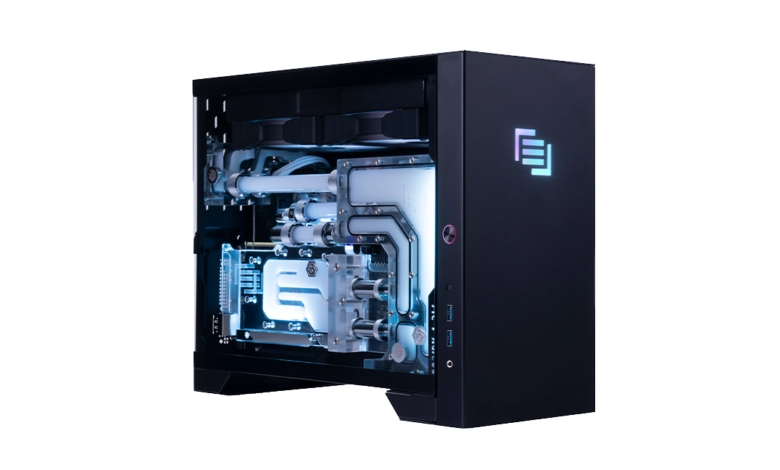 Size doesn't matter when it comes to gaming, as demonstrated by Maingear's Turbo desktop. A 16-core AMD Ryzen 9 5950X processor and a 24-gigabyte Nvidia GeForce RTX 3090 graphics card were crammed into our far excessive review unit, which is significantly smaller than a standard mid-tower PC. They were also well cooled. Custom hardline liquid cooling was used to cool the CPU and GPU of our test system, which came in at an astounding $6,456. However, we can't claim that it's not worth the money: the Turbo's unique combination of compact form factor, spectacular performance, and vast customizability is unrivaled. Once in a lifetime experience if you can afford it.
The tower is made of steel. Maingear's car painting service is available to buyers who want to go the extra mile. There is also the option of creating your own unique piece of art.
The Apex hardline open-loop liquid cooling with chrome tubing is the centerpiece of our richly equipped unit. It cools both the CPU and the GPU.
In addition to the main components, our model costs more than $6,000, which is a significant factor in the price. It takes a lot of time and effort to build a system like this one. The Turbo's tight dimensions necessitate accurate pipe cutting and bending. It's not something you can buy off the shelf.
Maingear's 280mm top-mounted radiator releases stored heat via a pump that circulates the fluid, which is clear in our model, although the company provides a variety of colors. Even under the most intense gaming conditions, the cooling fans remain remarkably quiet.
The Turbo's RGB illumination comes from the two fans, an inside light strip, and even the HyperX memory modules. You may change the lighting with the Aura Sync app.
It costs about $1,100 to install hardline cooling, which is about the average cost for this service. A large part of the Turbo's appeal is in its aesthetics, even though it uses a standard closed-loop CPU liquid cooler and air cooling for the GPU.
Component upgrades are more difficult with hardline liquid cooling. Once the top panel has been removed, you can easily remove either of the side panels by hooking your fingers under the bottom edge and yanking up.
Since the memory and M.2 solid-state drive are blocked by the tempered glass side's cooling tubes, it's best to consult Maingear before trying any disassembly. The best option is to order everything pre-configured from the manufacturer.
The only 3.5-inch drive bay can be accessed from the other side by removing a thumbscrew and sliding out a caddy. Mini-PCs benefit from Corsair's SF750W power supply because of its unique SFX format and fully modular cable connections.
The Turbo has two USB 3.2 Gen 1 Type-A ports and an audio jack on its front panel. Next time, I'd like to see a USB Type-C port.
There are also seven extra USB Type-A ports on the Asus ROG Strix X570-I Gaming mini-ITX motherboard, four of which are 3.2 Gen 1 and three 3.2 Gen 2, as well as one USB Type-C port and Gigabit Ethernet on this motherboard (line-in, line-out, and microphone). When using the GeForce RTX 3090 card's HDMI and DisplayPort outputs, the visual outputs on the Ryzen 9 5950X are disabled.
It would be excellent to see a USB 3.2 Gen 2×2 port in the port selection. A wireless antenna that is built into the case would also be preferable for a cleaner aesthetic. This Wi-Fi 6 card has an external antenna that is plugged into the two gold connectors on the motherboard.
Putting the Maingear Turbo to the Test
A 16-core, 3.4GHz (4.9GHz boost) AMD Ryzen 9 5950X processor, a 24GB Nvidia GeForce RTX 3090 Founders Edition graphics card, 32GB of DDR4-3600 dual-channel memory, a 1TB Seagate FireCuda 520 SSD loaded with Windows 10 Home, and a 4TB 3.5-inch hard drive are all included in the $6,456 Maingear Turbo.
One of the most powerful PCs that money can buy is certainly this one. Only a few mini-PCs offer hardware of this grade, and even fewer support hardline cooling. Direct competitors are limited. With a GeForce RTX 3060 Ti, Falcon Northwest's Tiki equals the Maingear in quality, but its GPU options are limited. Hardline cooling for just the processor in Digital Storm's BoltX, which can run up to a GeForce 3080 Ti, costs $5,305.
That the Turbo only works with AMD processors—no Intel "Rocket Lake" silicon—is noteworthy. The Ryzen 7 5800X is a solid bet for gamers seeking for greater value than the Ryzen 9 5950X's additional cores. GeForce RTX 3090 is the fastest single graphics card currently available, although RTX 3080 Ti gives nearly similar performance for a fraction of the price.
This candle is now ready to be lit. For our performance tests, we'll pit the Turbo against the gaming computers listed in the chart below.
Test System Configurations
| | PROCESSOR | GRAPHICS | RAM | STORAGE |
| --- | --- | --- | --- | --- |
| Maingear Turbo (2021) | AMD Ryzen 9 5950X (3.4GHz) | Nvidia GeForce RTX 3090 (24GB) | 32GB RAM | 1TB SSD |
| Intel NUC 11 Extreme Kit ("Beast Canyon") | Intel Core i9-11900KB (3.3GHz) | Asus GeForce RTX 3060 (12GB) | 16GB RAM | 500GB SSD |
| Lenovo Legion Tower 5i (2021) | Intel Core i5-11400 (2.6GHz) | Nvidia GeForce GTX 1660 Super (6GB) | 8GB RAM | 256GB SSD; 1TB HDD |
| NZXT H1 Mini Plus (2021) | Intel Core i7-10700K (3.8GHz) | Nvidia GeForce RTX 3060 (12GB) | 16GB RAM | 1TB SSD |
Lenovo Legion Tower 5i and NZXT H1 Mini Plus are two different types of tower PCs. They'll have to suffice as a comparison until more gaming desktops are subjected to our new benchmarking procedure.
Creative and Productivity Tests
PCMark 10 simulates a range of real-world productivity and office processes in order to measure overall system performance and also adds a storage subtest for the primary drive. An amazing productivity score of 7,861 points (more than 4,000 points denotes superb performance in Microsoft Office or Google Docs) and an equally impressive storage score were the Turbo's main achievements in this test.
Three other benchmarks evaluate a PC's readiness for processor-intensive tasks by utilizing all of its available cores and threads. Primate Labs' Geekbench 5.4 Pro, on the other hand, runs a wide range of popular apps, from PDF rendering to speech recognition to machine learning, using the Cinema 4D engine of Maxon's Cinebench R23. A 12-minute video clip from 4K to 1080p quality is then converted using the open-source video transcoder HandBrake 1.4. (lower times are better).
Workstation maker Puget Systems developed PugetBench for Photoshop to measure a PC's performance for content production and multimedia apps using Adobe's Creative Cloud version 22 of Photoshop. In addition to standard and GPU-accelerated Photoshop activities such as resizing, rotating, and storing images, this addon can also perform a number of masking, gradient fill, and filter operations.
The Turbo's 16 cores make multithreaded workloads a snap, slashing the NZXT's time in Handbrake and blazing away in Cinebench R23 and other tests.
On the Turbo, we performed all of our workstation and content development testing. SPECviewperf 2020, an industry standard that measures 3D performance in graphics and CAD programs; Puget Systems' PugetBench for Adobe Premiere Pro 15; and Blender, another 3D modeling test. All of the tests were won by the Turbo, which is hardly a surprise. Its Ryzen 9 5950X is a fantastic performer for digital editing and severe number-crunching.
Graphics and Gaming Tests
We do both synthetic and real-world gaming tests for Windows PCs. DirectX 12 gaming simulations Night Raid and Time Spy from UL's 3DMark have been included in the first version (more demanding, suitable for gaming rigs with discrete GPUs). Our OpenGL benchmarking is done with GFXBench 5, which is a cross-platform GPU benchmark.
F1 2021, Assassin's Creed Valhalla and Rainbow Six Siege represent simulation, open-world action, and competitive/esports shooter games accordingly in our real-world gaming testing. We run them at their highest quality presets (F1 2021 at Ultra High and Valhalla and Siege at Ultra) at 1080p, 1440p, and 4K resolutions on computers.
The Turbo's impressive stats speak for themselves. Gaming is clearly not the primary use case for the GeForce RTX 3090's 24GB frame buffer, but it is clearly competent.
To the Nitty Gritty
The Maingear Turbo is an engineering marvel in and of itself. Additionally, it utilizes hardline liquid cooling for both its CPU and GPU, which is a first for a desktop computer. Aside from a lack of storage expansion, there is little to complain about with this ultra-custom desktop. This is an intrinsic trade-off for a smaller PC. Its enormous price is justified by its high level of craftsmanship and customizability. If you've got deep enough cash, the Turbo Desktop redefines what's possible in a desktop this size.
Maingear Turbo
Performance - 9.2
Size - 9
Price - 7
8.4
8.4/10 Total Points
A fast and powerful little machine that'll hurt your piggy bank