Neapolitan Pastry For The Whole Family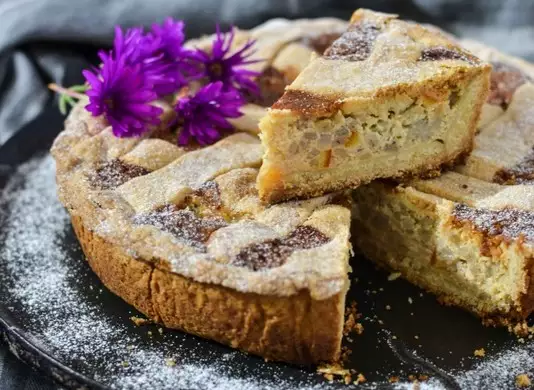 My readers, soon it will be Easter and don't we want to make a nice pastry? I'd say so, let's get down to business.
I do not pretend to make a pastry as a Neapolitan would, but it is a good pastry and I guarantee you that it has been very popular, I have always done it with excellent results, moreover each of us tries recipes that do not belong to him and fortunately otherwise the panettone would not have crossed the Lombard borders and the gruel with tomato would have remained on this side of the Apennines instead the recipes, fortunately they went around and continue to do so. So let's do and redo without distorting the original recipes too much but also without scandalizing ourselves if they are too different from what our model is, however unless they are codified recipes you can change everything.
I started from cooking the grain, bought it, soaked it for 3 days changing the water 3-4 times a day, and then cooked it for a couple of hours. Made to drain well from the cooking water and if it gradually advances freeze it for a future preparation.
PHASE 1
For the shortcrust pastry proceed as always, combine flour, sugar, salt, then the cold butter in small pieces and the egg, knead very quickly trying not to heat the dough, if you lack liquid add a few drops of cold water. Make a ball and put it to rest in the less cold part of the refrigerator for 30 minutes.
For the filling: put in a saucepan the cooked grain, butter, milk, and grated zest of a lemon, cook for 10 minutes until it becomes a cream.
Smoothies, ricotta, whole eggs, yolks, sugar, vanilla, orange blossom water, cinnamon. Work everything well to make the dough fine, then add the grated peel of 1 lemon and the candied diced. At this point add the previously cooked dough with the grain and mix well.
Take the shortcrust pastry and spread with the rolling pin at a height of 1/2 cm and coat a pastry pan, 22 cm in diameter already buttered and floured.
Pour into the dough, level it well and decorate it with the classic grill with the strips of shortcrust pastry. Bake at 170°C for 11/2 hours, until classic burnished. Let it cool and then sprinkle with icing sugar.
It keeps in the refrigerator for a few days but it won't last that long, it will end first.